Inter caste marriages & honour violence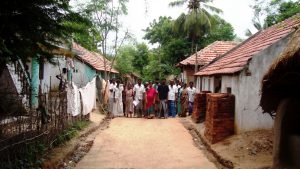 Lakshmi lost her husband but stands with his family
Honour violence has long been considered a problem concentrated to the northern parts of India, but this is a notion that has recently begun to be reviewed. Honour violence in southern India is increasing and non-approved inter caste marriages are believed to be the main reason that triggers the violence. In June 2008, a young couple, Lakshmi and Sivaji got married in Nillakottai, Dindigul district. She was from a dominant caste and he was from the Dalit community. The couple struggled for their love, but three months after the wedding, Sivaji was brutally murdered.
Lakshmi and Sivaji had been a couple for four years. They wanted to get married and start a life on their own. Two years earlier their love affair had come to knowledge of Lakshmi's parent's and since then she had been under constant threats and abuse. Despite this, Lakshmi continued the relationship and was determined not to succumb to her parent's will. In order to change her mind, her parents forcibly took Lakshmi to her sister's house, where she was kept in house arrest. She was severely beaten by her own family and relatives and they threatened to kill Sivaji if the relationship did not end. After one month in captivity, Sivaji came to Lakshmi's rescue and they escaped. In a temple in Nillakottai they married and were invited to stay with one of Sivaji's friends. During this time Lakshmi became pregnant. Her family tried to bribe the friend to persuade Lakshmi to return, but he bravely refused.
In September, three months after the wedding, Lakshmi's two elder brothers broke into the house where the couple lived, accompanied by a gang of 15 people. They all beat and tortured Sivaji and shouted his caste name. When the violence ended, they abducted him and escaped in a car. Lakshmi had to witness the whole incident and could not do anything to stop them from taking her husband. The same evening the mob arrived to Thavoor village, where they killed Sivaji with a sickle.
Evidence came to know about the honour killing and a team of human rights researchers went directly to the place to conduct fact finding. As the couple had moved from one district, married in another and the murder took place in a third, none of the police stations wanted to register the case. Evidence put pressure on the Dindigul police to take up the issue and eventually the case was registered under SC/ST act 1989 and the accused were arrested.
This was the first case exposed about honour killings in Tamil Nadu and it attracted lot of attention among officials, publicas well as within civil society. People begun to discuss honour violence and recognized that the problem is not only existing in north India. The wide attention launched a debate about how to tackle honour killings. Following this, similar caste based honour killings started reporting in Tamil Nadu. The problem became more visible as more crimes were exposed.
Lakshmi refused to go back to her family and ignored the threats she received from them following the incident. She withstood the pressure and proceeded legal action against them. Many cases of honour killings are closed as dismissed or mistake of facts in court and police station since the accused are often family or relatives.
Important evidence is many timed concealed to protect family members. But for Lakshmi that was never an option. She was determined that her husband's killers should be punished, even though they belong to her family.
After Sivaji's death, Lakshmi moved in to her husband's family and they have developed a strong relationship. She will never return to her family, whom she has completely cut her relationships with. Lakshmi gave birth to her and Sivaji's son who is now growing up without his father, but surrounded by his relatives. A big concern for Lakshmi was her son's education. Evidence contacted a local private school run by a Hindu from a dominant caste in an attempt to find a placement. After hearing about Lakshmi's situation he guaranteed the boy free education.
The case is pending in court and for now Lakshmi has received some interim compensation, which she shared with her husband's family. She is also guaranteed a monthly widow government pension. Lakshmi believes it is important that the consequences of honour violence are exposed. She has appeared in several leading TV-channels and has also participated in various public events to narrate her and Sivaji's story. She is not afraid of her family anymore and has grown the confidence to stand in front of big audiences to share her experiences. It is not an easy thing to do, but she wants to be a support to other women and men in similar situations. In that way, the tragic death of Sivaji will make a change, bringing the issue of honour violence to light and challenging the social stigma attached to inter caste marriages in the Indian society.