Dalit women's right to political participation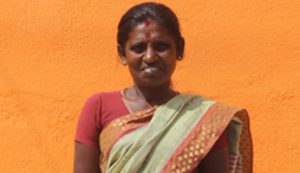 Poomayil never compromised
n the 2006 Panchayat electionsa woman named Ms Poomayil was elected as the village President of Kalangudi, a village near Devakottai, Sivgangai district in Tamil Nadu. Panchayat is the local government unit in India and being a president is a prestige position. To ensure political space for women and people from marginalized communities there is a policy that provides reserved seats in local elections. Belonging to the Dalit community, Poomayil filled such a reserved seat. Poomayil constantly had to fight to prove herself qualified for the position, as dominant and influential people tried to confine her participation to bring her down. She resisted the pressure and came to a turning point where she boldly fought for her right to free and independent political participation.
During her mandate Poomayil was the only elected woman functioning as panchayat president in her constituency. That came with a range of difficulties. People from the dominant castes were jealous and could not accept that a dalit woman held that position. Being a woman and a dalit, she faced double discrimination. Dalit woman leaders are constantly hindered by caste, class and gender discrimination as everyone seems to position themselves above them; dominant caste men and women, as well as dalit men. Dalit women presidents are often used as figureheads, while the functioning of the panchayat is taken over by upper caste members.
One afternoon in the beginning of November
2010, Poomayil was on her way to the village ration shop. Earlier that year she had tried to help a woman who against her will had lost her job as a social worker. A woman from a dominant caste hadforcibly taken over the work convinced that she would perform better. In order to file a complaint on behalf of the Dalit woman, Poomayil had turned to the District Collector and the Devakottai Block Development Officer.
Poomayil's walk to the ration shop was disturbed when someone started shouting at her: "What is your problem if I work in someone else's name?" It was the woman she had filed a complaint against, rapidly approaching her. She pulled Poomayil's saree off and tore her blouse. Poomayil was beaten with her own sandals used as weapon, leaving marks on her face and chest. In front of many witnesses, the womanhumiliated Poomayil andcalled her by her caste name. The violence came to an ending, when a woman in the crowd stepped in and stopped the attack.
Poomayil was determined to take action against her attacker and decided to contact Evidence for legal support. A team from Evidence went to the place of the incident and together they prepared to file a complaint against the perpetrator.  However, the police refused to register the case. Evidence then approached the Madras High Court Madurai Bench and the police station was subsequently forced to take up the case. A first information report was registered and the accused woman could be arrested.
Despite the initial hurdle of getting the case recorded, there was no risk that the incident would pass unnoticed. Poomayil was backed up by various dalit groups and local activists that joined her struggle for justice.  The legal intervention was followed by a series of activities to put pressure on the government to take descent action. Evidence organized a protest and conducted a research study, which created much debate among public as well as within civil society.
Denial of Dalit women's political participation was a sensitive issue on the state level at that time (and still is). The attention that accompanied Poomayil's case resulted in a unique statement from the government, for the first time distinctly declaring that elected presidents, no matter cast or gender, must be allowed to function and carry out their duties freely. The government also stated that there must be no biases behind the decision making; women should be free to act according to their wills, without being proxies for dominant castes and influential people.
For each panchayat the government sanction grants intended for development work in associated villages. After the incident, officials worked intensely to release the funds for Poomayil's constituency. With the allocated funds she was able to carry out programs and activities successfully. The work was conducted with full transparency and she was tenacious neither to give bribe nor to accept bribe. Poomayil's efficient administration brought her respect and she received a strong reputation in the constituency. Following this, the dominant caste could no longer claim that she lacked the ability to carry out the panchayat work and finally they recognized her as an honest and efficient president.
Poomayil was able to make decisions freely and to spend the funds as she found eligible during her remaining time as president. She was determined not to allow husbands, fathers and brothers to be the decision makers behind the women. Poomayil's fight for her political participation challenged the caste and gender discrimination that usually are the main hindrances for Dalit women in panchayats. After the exposure of Poomayil's situation and the interventions that followed, not a single caste or gender issue was reported again from her constituency.
Facing pressure from the dominant castes and having the courage to speak up is not easy. Poomayil had a firm support from family members, especially from her husband who stood by her side throughout the struggle. Poomayil was able to successfully fulfil her duties as panchayat president and her struggle is now history.  She is a great role model for other woman presidents and leaders.
The most important component behind Poomayil's success was that she never gave any room for compromise. Through her struggle she created a space, not only for herself to actively participate in the local decision making, but she also inspired other women to take important steps out of their homes and into the public sphere.